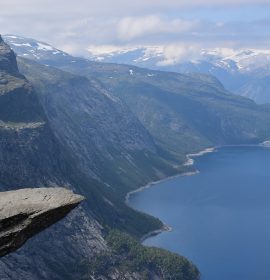 CONTACT OWNER
Trolltunga
Trolltunga (Troll tongue) is a rock formation situated about 1,100 metres above sea level in the municipality of Odda in Hordaland county, Norway. The special cliff is jutting horizontally out from the mountain, into free air about 700 metres (2,300 ft) above the north side of the lake Ringedalsvatnet.
Source: wikipedia. Read more about trolltunga on wikipedia
View what visitnorway says about the rockformation trolltunga.